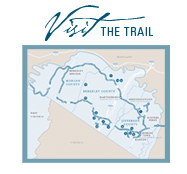 ---
George Washington rode past this site traveling the noted 18th-century Warm Springs Road which went from Alexandria, Virginia to the country's first spa in Berkeley Springs another 12 miles west. Today, there is an inviting roadside park, pavilion and limited primitive camping nearby.

The Meadow Branch of Sleepy Creek runs through the area. It shows archeological remains of a mill run on land once owned by James Rumsey's brother. Inventor of the steamboat, Rumsey eventually held patents on more than a dozen innovations for mill machinery. In 1784, Washington contracted with Rumsey to build a house on his lots at Berkeley Springs. This sawmill was a likely source for the necessary boards.

The Tuscarora Trail, a 252-mile sidebranch of the Appalachian Trail marked with blue blazes, is accessed just east of Spruce Pine Hollow then climbs south more than 1000 feet up Sleepy Creek Mountain on old logging roads through the public wilderness and around Sleepy Creek Lake. Spruce Pine Hollow has parking making it an ideal base for a strenuous day hike.
"Unfortunately the sawmill took fire in the night and . . . was entirely
consumed with a great part of the plank and this stroke put it entirely
out of my power to proceed with your large house . . ."
James Rumsey to George Washington – June 24, 1785