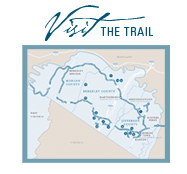 ---
By 1842 the B&O Railroad was completed with service to Martinsburg. A roundhouse and maintenance shops were built soon after but destroyed by Thomas "Stonewall" Jackson and his Confederate troops in 1862. The roundhouse facility was rebuilt in 1866, giving birth to a post-war industrial boom. In July 1877, railway workers went on strike for better pay and improved working conditions. Strikers were killed when federal troops broke up the action which initiated the country's first national labor strike.

The B&O Railroad abandoned the roundhouse and adjacent machine shops in the late 1980s and the neglected facility deteriorated rapidly. The Berkeley County Roundhouse Authority was formed to preserve and restore the 10-acre complex of three buildings and a ruin. The 16-sided, cast iron structure is the only remaining intact roundhouse of its kind.

The Caperton Train Station remains in daily operation for Amtrak. Adjacent to the train station is a hotel built in 1848 with the oldest, intact hotel room in the country. The hotel has been restored and houses the Berkeley County Interpretive Center of the Washington Heritage Trail. A pedestrian bridge over the working railroad tracks takes people from the train station to the restored Roundhouse.
Location: 229 East Martin Street, Martinsburg