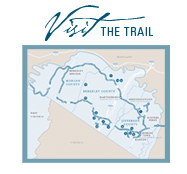 ---
Adam Stephen built this impressive home of locally quarried limestone in 1774 on a hill overlooking Tuscarora Creek where a few years earlier he had acquired a tract of land. He also built a mill, distillery and armory. In 1772 when Berkeley County was formed, Stephen managed to wrest the courthouse location away from Leetown to his site which he would establish as the town of Martinsburg in 1778. He was the new county's largest landowner and was appointed its first sheriff.

Stephen was born in Scotland. He was trained as a physician in Edinburg but functioned best as a soldier beginning with the Virginia militia. During the French and Indian War he served as a colonel and second in command to George Washington. He was at Fort Necessity when Washington was forced to surrender. In 1761 he ran against his former commander for a seat in the Virginia House of Burgesses. Washington won the election by a wide margin.

During the Revolutionary War he was promoted to general for his part in the Battle of Trenton. In one of his most notable achievements, he forced the retreat of British General Dunmore from Norfolk, Virginia. Stephen was eventually court martialed for unofficer-like behavior.

In 1959, William Evers donated the house to the city of Martinsburg. The Adam Stephen Memorial Association was formed to restore and furnish the building. The structure is a fine example of late colonial stone architecture. Listed on the National Register of Historic Places, it has been restored and furnished to the 1780-1820 period.

On the basement level there is an entrance to one of the many caves beneath Martinsburg. A second cave nearby is being explored. It is believed that the basement cave gave protection to inhabitants of the house in case of attack.
Location: 309 East John Street, Martinsburg
Hours of Operation: Open for house tours Saturdays and Sundays from May through October.