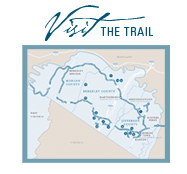 ---
Hedgesville is located in Skinner's Gap on North Mountain, where the original Warm Springs Road (now WV9) passed through from Alexandria, Virginia to Bath (Berkeley Springs). An abundant spring drew the first settler and today serves as Town Spring marked by a protective structure. The spring is reportedly never affected by drought and the water is a persistent 57 degrees.

In 1738, the Hedges family began to acquire land just east of the gap. During the French and Indian War in the 1750s, George Washington supervised the construction of a stockade fort in the gap called Fort Hedges. It was one of a string of forts constructed for protection against the French and their Indian allies.

The town was laid out in 1832 and established as Hedgesville by the Virginia General Assembly in 1836. At that time, a law was passed making it unlawful to "sit or loiter about Town Spring drinking spirits." The town was finally incorporated in 1854 and in 1870 the Town Council was given control of the springs.

A number of antebellum historic structures still line the village streets, including many original log homes. The village is listed in the National Register of Historic Places.