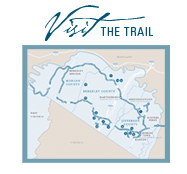 ---
Strategically located along the bends of the Potomac River, B&O Railroad and C&O Canal, Paw Paw was named for the unique fruit that grows along its ridges. Paw paws are a native tree with roots in the Ice Age that fed pioneers before they could plant orchards. Botanically, asimina triloba, it is the only temperate climate member of the apple custard family and produces ripe fruit in September. It was a favorite dessert of George Washington's and tastes like a blend of banana and cantaloupe.

The paw paw inspired a national society founded in 1988 by West Virginian, Neal Peterson.

On Washington's many trips west, he usually took the Winchester-Cumberland Road which closely parallels today's highway north/south through Paw Paw. The Potomac River, which embraces the old town in one of its bends, was navigated as early as 1750. Travelers heading west often crossed the gap in the mountains here, some settling to farm land along the river. In 1928 a bridge across the Potomac replaced the pre-Civil War ferry.

The B&O Railroad arrived in 1838; by the 1930s, six trains per day stopped at the depot. Passenger service ceased in 1961. The Paw Paw Pullman car was dedicated on April 16, 1948 and assigned to the Capitol Limited route from Washington, DC to Chicago.


Paw Paw was incorporated on April 8, 1891 and experienced boom times at different periods as a canal, railroad, orchard and tannery town. Today it offers visitors lodging, campsites along the river, boat ramp, food and car services. Approximately 25 miles west of Berkeley Springs on WV9, Paw Paw serves as the westernmost entry to the Washington Heritage Trail.
" . . . our party entirely out of provisions . . . perfectly contented and tell
us they can live very well on the pappaws . . ."
William Clark; Lewis and Clark expedition — September 18, 1806