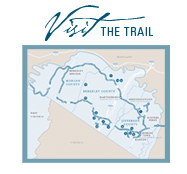 ---
After surveying western lands for Lord Fairfax of Virginia, George Washington realized that the Potomac River provided the most direct route from the Tidewater to the Ohio Valley. Although his plan for a canal to make the Potomac more navigable was rejected in 1774, after the Revolutionary War efforts to promote a canal were endorsed. The Potowmack Company was created in 1785 and Washington was its first president. He hired James Rumsey as manager. In 1828, rights to the Potowmack Company were transferred to the C & O Canal Company. The C & O Canal reached Cumberland, Maryland by 1850. It never reached the Ohio River.

The Potowmack Company periodically made plans to improve the Shenandoah River. In 1807 it completed the Shenandoah Canal, a 580-yard canal just above Virginius Island. Lift locks were erected at the lower end of this canal where the pulp mill ruins now stand.

A bridge across the canal leads to Virginius Island which was once a thriving 19th century industrial town. After the flood of 1936, the worst recorded in Harpers Ferry, the last islanders fled never to return.

In 1819 John Hall established Hall Rifle Works on Lower Hall Island separated from Virginius Island by a narrow channel. The Hall Rifle Works used a concept of interchangeable parts to produce breech-loading rifles.

Today, the canal is part of Harpers Ferry National Historical Park.