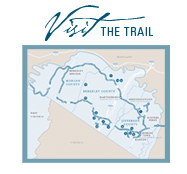 ---
Thomas Lord Fairfax, colonial owner of the warm springs, always allowed their public use, and a "park" has surrounded them since the first bathers came in the 1740s. George Washington visited "ye fam'd warm springs" for the first time as a 16-year-old surveyor working for Fairfax in 1748. He returned nearly a dozen times, often for weeks with his family. Over the centuries, countless visitors have followed Washington and strolled, bathed and been entertained in the area that has been known as Bath Square and The Grove. In 1925, it was turned over to the state of West Virginia and now is its smallest state park.

The warm mineral waters of Berkeley Springs continue to be prized—used for baths, as the municipal water source, and bottled commercially. The 74-degree temperature, more than 1000-gallon-per-minute flow and mineral composition of the water remain unchanged from Washington's day. A Poor People's Bath House, rumored to have been built in 1784 and shown on a 1787 sketch, was bricked in the early 19th century and is used today as the park superintendent's office. A millstone monument to inventor James Rumsey is located along the Washington Street side of the park.

There have been a succession of other park buildings ranging from a pagoda-like bandstand over the Ladies Spring at the south end of the park to extensive covered bathhouses for both men and women built in the 1880s. As early as 1787, there were large covered swimming baths. The park itself has grown since Washington's time adding land along its eastern and southern borders.

To this day, water from the springs remains free for the taking from two public fountains under the Gentlemen's Spring House built in the early 19th century. The water is also freely available in a series of open pools along the west wall of the park.

An outdoor swimming pool is open daily through the summer.

Located in the center of town, Berkeley Springs State Park is listed on the National Register of Historic Places. Today it is the site of popular spa treatments, summer concerts and the annual Apple Butter Festival on Columbus Day weekend in October.
"Said Warm Springs . . . shall be vested in the said trustees, in trust, to
and for the public use and benefit, and for no other purpose whatsoever."
An Act Establishing a Town at Warm Springs — December 6, 1776
For More Information: 304-258-2711