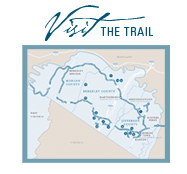 ---
By the mid-19th century, there were 10 mills operating along Mill Creek, heart of the historic district of the same name. The present stone building that houses Bunker Hill Mill dates from 1800 and was in operation until 1963. The only mill in West Virginia with dual water wheels, it houses a collection of 19th and 20th century milling equipment. The mill gate that lets water into the mill pond, the mill race and the pond itself are visible from the county road as it curves around the mill. The original mill building at this site dated back to 1738 when it was owned by Thomas Anderson.

Just to the west of the mill is the historic village of Bunker Hill where early county settlers, including Morgan Morgan, established a church in 1740; twelve years later there was a tavern. General Elisha Boyd eventually purchased the 2000-acre plantation and built a grist mill, cooper shop and store.

Many Civil War skirmishes took place in Bunker Hill and in the 1890s, former slaves established "Black Row" here. Three of Bunker Hill's original church buildings, damaged during the Civil War, still stand.
Location: WV26 – 0.8 miles east of US11
Hours of Operation
By appointment only
304-229-8707