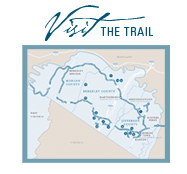 ---
George Washington lodged at the Sign of the Liberty Pole and Flag on his visit in 1784. Inventor James Rumsey was a partner in the inn with the Throgmortons. Rumsey demonstrated his pole boat for Washington during this visit, earning his endorsement.

Flowing north to empty into the Potomac, Warm Springs Run crosses the area where Throgmorton's Inn once stood.

Adjacent, a 20th-century inn continues the hospitality tradition. It was built in 1933 on the site of the famous 500-room Berkeley Springs Hotel owned and operated by 19th-century writer and illustrator David Hunter Strother (Porte Crayon.) Historic figures including President James K. Polk, summered here before it burned in 1898.