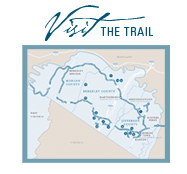 ---
This Greek Revival residence was built in 1853 by Ben Boyd, father of Isabella (Belle) Boyd, one of Martinsburg's most notorious and colorful figures from the Civil War era. Belle earned her fame as a Confederate spy and confidant of General Stonewall Jackson. In addition to running messages with sensitive information to the Confederates, Belle shot and killed a Union soldier who entered the family home in 1861. She was imprisoned in Washington, DC on two separate occasions. Ironically, after the war, Belle Boyd married a Union officer and became an actress on the London stage.

Part of the house is a museum highlighting the Civil War, Belle Boyd, and military artifacts of 19th-and 20th-century wars. The Archives Division, located in a historic home next door, is the main historical and genealogical research center for the tri-county area.

Each December, the Belle Boyd House is trimmed for Christmas in Victorian style decor. In February, there is an annual Valentine Celebration.
Location: 126 East Race Street, Martinsburg
For more information: For special events, days and hours of operation,
call 304-267-4713 or visit www.bchs.org